Join a Winning Team of Speech/Language, Occupational & Physical Therapists
25 Jan 2022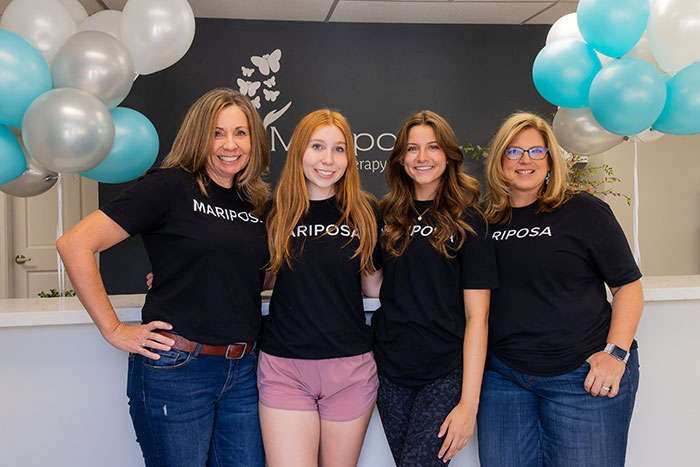 "Kristin Blanchard and Danielle Lowe with the daughters who were babies when Mariposa Therapy was founded."
By Kristin Blanchard & Danielle Lowe
The demand for physical, occupational, and speech/language therapy services is growing, and we are looking for therapists to help us meet the demand and accomplish our vision.
Who Is Mariposa Therapy Services?
We are Mariposa Therapy Services, a 20-year-old clinic in Tempe, AZ. We offer speech/language, occupational and physical therapy programs for adult and pediatric clients throughout Greater Phoenix in our clinic and clients' homes.
We also partner with public school districts and charter schools and medical professionals throughout Arizona to provide speech, occupational, and physical therapy services, and serve Medicare patients in our multidisciplinary rehabilitation outpatient clinic as part of a contract with the State of Arizona Division of Developmental Disabilities (DDD).
We Built Mariposa Around Our Therapists' Needs
We are committed to hiring the best physical, occupational and speech/language therapists and leverage our extensive recruiting, hiring and training programs to provide our employees with the resources they need to grow their careers.
We took the knowledge of what it's really like to work as a Therapist and created a clinic centered on making the therapist experience better.
How Mariposa Began
We met years ago when our daughters were babies and learned that we had a lot in common, including being speech-language therapists. We eventually decided to join forces, created Mariposa Therapy Services and built a stellar team to provide clients with physical, occupational and speech/language therapy services and provide a supportive environment for clinicians and therapists.
Through our combined skills and training, we have created a unique professional synergy that continues to grow. Kristin's background includes work with cochlear implants and her specialties are early intervention, apraxia, feeding, working with K-8 school leaders and adult neuro rehab. Danielle's specialties include working with high functioning ASD clients, social communication differences due to giftedness, adolescent social language, childhood language impairments and working with K-12 school leaders. We use this knowledge to guide our vision and support our clinicians as well as the clients we serve.
Why Join Our Team?
We are therapist-owned and understand your desire to make a difference in patients' lives. When you work with us, you are part of our "family" of speech, occupational, and physical therapists, not just a nameless employee or "billable unit."
We work together to create treatment plans that make therapy a positive experience, empower patients, optimize results and change lives. Our dedicated leadership team provides expert training, supervision, and feedback to help us hold each other accountable to one another to be sure we provide outstanding service.
We offer full and part-time positions (not 1099s), generous benefits, training, and support and create schedules and experiences that maximize your expertise and life situation and support you during the ebbs and flows of your career.
We receive client feedback like this, and it inspires us onward.
"Mariposa is a welcoming clinic with friendly therapists, a supportive environment and helpful staff. It is a great place for those who need therapy from a young age through older adults. —Parent
"We l love bringing our son here because the therapists are professional and use the latest techniques and best practices. It really shows through the progress he has made." —Parent
"Mariposa has been fantastic to work with and has exceeded my expectations. They ensure our students receive top-notch service from phenomenal professionals that are passionate about the academic, emotional and social growth and success of all students." — School Principal
"I want to thank Mariposa Therapy's speech pathologist for the fantastic job she did communicating with one of our student's parents during our recent IEP meeting. She was able to explain the evaluation process very thoroughly and where we were as a team providing the best services for the student. —School Leader
Your skills, knowledge and talent are in demand. Are you looking for:
Leadership opportunities?
Supervision and mentoring?
The opportunity to share your expertise and wisdom to help new clinicians?
Schedule flexibility?
The opportunity to work across disciplines?
Better benefits?
A place to call your career home?
Why not apply them at a company where the focus is on helping therapists like you succeed. We know you are dedicated to helping people, and we are proud of the culture we have built to enable you to do that.
Come work with us and you will have the autonomy, flexibility and support to create the work situation you desire.