Growing Mariposa's Vision By Mentoring Speech, Occupational and Physical Therapists
30 Sep 2021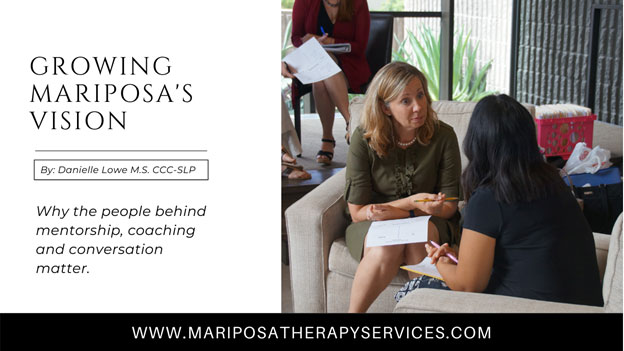 Growing Mariposa's Vision By Mentoring Speech, Occupational and Physical Therapists
By: Danielle Lowe
Having been a Speech and Language Pathologist in Phoenix for over 24 years, I can say the most rewarding part of my job has been helping people reach their communication goals. Over the years I have been able to effectively assist children and adults become the best communicators possible through evidence-based speech therapy. Recently, I have been utilizing my depth and breadth of experience to mentor young clinicians. I feel I can have an exponential impact through these mentorship relationships because not only am I helping the clinicians but also all the clients each clinician serves. This strong sense of purpose and giving back has helped to grow my company, Mariposa Therapy Service's vision of providing competent, client-centered therapy services through collaborative relationships.
Many young clinicians enter the field of speech therapy with unrealistic expectations.
Often, they have pigeonholed themselves as either a pediatric therapist or an adult therapist. Others think they only want to work in a clinic, and some are convinced schools will be their niche. Most of the time the young therapists learn that a different population or setting, than what they enter the field expecting, is a better fit for their therapy style, personal interests as well as personality preferences. For example, a clinician might exit graduate school convinced they would like to be a feeding therapist in our clinic but within a few months realize they really enjoy working with their Special Education teams at their school placement. These professional shifts are common within the diverse fields of Speech, Occupational and Physical Therapy. It can be a daunting task for therapists in any of the disciplines to choose a population or setting they feel most comfortable with given the wide range of options. Therapists might work with adults or children or both. They may work in schools, clinics or within the client's home. With such an array of speech therapy settings and populations, it is no wonder many clinicians ultimately discover surprising facets of their profession that they never considered.
As we developed the vision of Mariposa Therapy Services, we were intentional with the creation of our clinician training programs. Our team of experienced directors guides both new and experienced therapists to find their own therapy style and help them discern which type of clients are the best fit for them.  Our therapists find us unique in that we can provide them with experiences in schools, at our Phoenix speech, occupational and physical therapy clinic and within home-based settings. Ultimately, our clinicians settle into their roles whether they focus on helping children speak more clearly, assist adults with Parkinson's Disease improve their endurance, help a parent who is having a difficult time with their child's feeding or support our clients any other of the many aspects speech, occupational and physical therapy can encompass.
Our exceptional team of clinical directors is adept at guiding each therapist through Mariposa's deliberate clinician training program. We are proud to have a strong team of discipline-specific leaders. Our physical and occupational therapy program directors are experts in their respective fields. Our clinic and school's director are both Speech-Language Pathologists with a good depth of experience in their respective professional settings. Mariposa also boasts a Clinical Fellowship Program director who is also a Speech and Language Pathologist and is keenly aware of the information, support and tools speech/language Clinical Fellows need to be successful and feel supported during their first year out of graduate school. To top off our director's team, our Development Director provides wrap-around support for all therapy disciplines. Our Development Director provides focused training on Mariposa processes, professionalism, special education rules/regulations, relationship navigation, problem-solving and so much more. With this level of clinical and professional support our speech, occupational and physical therapists are well-positioned to succeed in their field.
Mariposa's training program is designed to systematically address areas that new therapists might need support with. Because we have trained hundreds of therapists, we understand what questions arise at specific points during a therapist's professional development and we are proactive in training so that no one ever feels unduly confused or unsure. Our training program is not only discipline-specific but is also cross-disciplinary. For example, our speech therapy department might conduct training for our occupational and physical therapy department and vice versa. This wealth of knowledge is not only beneficial to our therapists but also helps the clients we serve. Our clinician training program truly helps our therapists learn the depth and breadth of their profession so they can more effectively help our clients and families within the community and at our schools.
I am proud to be able to say I work with such a skilled and caring group of speech, occupational and physical therapists. My vision of giving back to my profession has truly bloomed into a structured, thoughtful training program guided by multidisciplinary wisdom and experience. Because Mariposa Therapy Services intentionally sets aside time to train and help our therapists meet their career goals, I truly believe I can make a difference in a greater number of lives. For that I am grateful.